Theoretically, students can make it through all four-plus years of college without ever setting foot in the library. But why on earth would you want to do that?
Libraries are awesome, and the J. Paul Leonard Library at San Francisco State University has some particularly cool features that can significantly improve your student experience.
8. No Laptop? No worries.
Murphy's Law says that "anything that can go wrong, will go wrong." I've had students lose laptops on buses and trains, and leave laptops hundreds of miles away while visiting family over breaks. I've had students whose homes and cars were broken into, their laptops stolen. I've had students whose computers unexpectedly crashed, bricked, and fried.
Losing your laptop sucks. (Especially if you forgot to back up your work. Always back up your work. Use Google Drive or Dropbox or even just email your latest draft to yourself whenever you make major additions or alterations.)
When Murphy's Law bites you in the hard drive, stay calm and library on. You can visit one of the library's several computer labs or even check out a laptop for anywhere from four hours to thirty days, allowing you to retrieve all those assignments and keep going — because you backed up your work.
7. Google-fu failing you? Library research assistance to the rescue!
…And I mean literally failing you. If you aren't using any sources for your college writing assignments beyond what you can scrounge up in basic web searches, you're going to start having a very hard time very quickly.
At first, doing research in academic databases (much less the actual stacks of academic books and journals) may seem intimidating; it's like trying to find your way in a country where you may not speak the language and you're unfamiliar with the local customs.
You know the stereotype of the "ugly American" tourist who just stomps around shouting louder in English at people who don't speak it, and who complains that they don't do things in Oslo/Cairo/Chiang Mai/La Paz the way they do in Muskogee? Using basic web searches when you should be doing academic research isn't nearly as gauche, but it is a symptom of a cultural adjustment — to an important part of academic culture.
Happily, the world is a pretty friendly place, and when you ask for help politely (even if you "ask" mostly via gestures and a few badly mispronounced phrases), you'll find that people are usually enthusiastic about introducing newcomers to their culture. At the library, they're almost aggressively happy to help: you can instant message, call, text, email, watch videos, use web-based how-to guides, drop in, or even make an appointment to work with a subject librarian to get in-depth research consultation.
It's like a personal tour guide, a butler, and a concierge got together and had a magical library baby who lives to help you. Start seeing the sights — you've got the intellectual world at your fingertips.
6. Find some Silence in the Library
No, Whovians, not that Silence in the Library.
Which is a good thing, because I would be less excited about sending you to the library if I felt there was a chance you'd be eaten by invisible microscopic alien piranhas hiding in the shadows.
But did you know that the SFSU library has multiple spaces set aside for quiet study? Because sometimes you're trying to study with friends or at home, but the noise starts to drive you crazy until you just can't take the yapping and the snapping and the tapping and you just want to leap up and shout —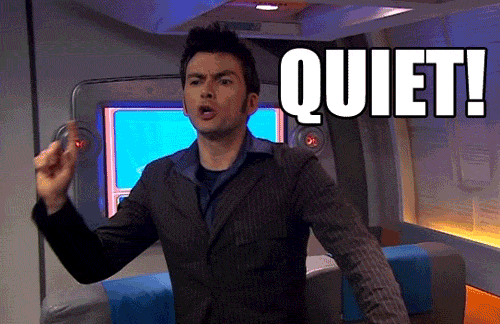 But you can escape those distractions in a quiet study space.
Thanks, library!
5. Get your group project going full steam in a group meeting space.
I know a great joke about group projects (and by "great" I mean terrible):
At my funeral, I want everyone who I've ever been in a group project with to be a pallbearer, so they can let me down one last time.
Group projects can be…challenging. The library doesn't check out cattle prods (as far as I know) so there may be very little you can do if your group members aren't very motivated; nor do they offer drones mounted with tracking devices and tranquilizer darts (again, as far as I know — you're welcome to inquire further), so if a group member goes totally AWOL there's not much you can do to pull them back into a productive orbit.
What the library does offer are a number of handy meeting spaces, including reservable group study rooms with whiteboards, wifi connections, and everything you need to collaborate with two to twelve of your favorite people.
4. Ran out of ink at home? J. Paul Leonard has your back.
It's the moment every college student dreads: you're printing out a major assignment worth what feels like 160% of your grade, and page one prints out looking…faded. Page two? Barely legible. At page three, your printer hacks out a final consumptive cough and the ink dies completely, leaving you with a dozen blank pages that should have been filled with your scintillating argument about the causes of the Boer War.
In this moment, you hate your printer. You want to destroy your printer and all that it represents!
But don't go full Office Space on it yet. You've got a deadline to meet!
Hurry — grab your laptop or email/upload your final draft where you can easily access it, and run, don't walk, to the library. You can print there.
One caveat: don't expect to be able to waltz in and out in minutes, at least not during peak times of year such as midterms and finals. You will not be the only person whose printer gave up the ghost, and there are also plenty of people who use the library printers as their regular printing method.
Plan ahead and give yourself plenty of time to print before assignments are due — and if Murphy's Law kicks in and literally everything goes wrong, contact your instructor as soon as things start to go pear-shaped, attach the assignment to an email to show them you completed it before the deadline, and ask if you can get an extension on the paper copy.
3. Fuel up on coffee at Peet's.
Some of us need our coffee in the morning. By which I mean throughout the morning, in a continuous infusion. And then again in the afternoon, as a pick-me-up. None in the evening, of course, unless it's a shot of espresso over ice cream — or unless we need to be up late working on a project.
Because it would have been silly to ask people to walk the hundred or so yards to the nearest coffee shop in the student center, there's a Peet's inside the Library, in a kiosk in the middle of the first floor.
In theory, this makes getting coffee incredibly quick and convenient. In practice? Give yourself plenty of time to get your fix delicious beverage, since at peak times the line at Peet's can extend most of the way through the lobby.
2. Snag great deals at the used bookstore.
Channel your inner Belle and pick up your next book at the booksale room on the first floor (in room 120 A, near the book drop). Although small, the Friends of the Library bookstore seems to turn over its inventory frequently — and the books are so cheap, it's easy to splurge without hurting your pocketbook.
If you're trying to stock up more texts relevant to your major or intended major, this is the bookstore for you; I suspect a lot of the donations here come from professors cleaning out their offices, as you can frequently spot insane deals on older editions of textbooks and scholarly works.
1. Oh yeah, and the library is also a library!
So you can also find articles and check out books. For free!
You aren't even limited to the SFSU library's collection. If you need a book and it's not available at SFSU, you can almost certainly get it through the inter-library loan service CSU+ or iLLiad.
Once you've followed the advice above and learned how to use some of the library's research tools, you can search for articles from the comfort of your own home using the online databases.
The library also has an amazing collection of films, music, theses written by former students, and archival materials. Heck, the library even contains another library. The Sutro Library, on the fifth and sixth floors, is a California State Library and has a massive genealogy collection, as well as a massive selection of rare items (including a selection of Shakespeare Folios) and publications.
So what are you waiting for? Go live it up at the library.
All gifs via Giphy